National Centre of Excellence in Geology, Peshawar
The National Centre of Excellence in Geology (NCEG), University of Peshawar (UoP), is an institution of higher learning and research in geosciences. It was established in 1974 under an act of the parliament. Dr. R.A. Khan Tahirkheli was the founder Director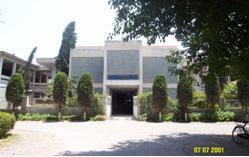 of the Centre. Upon his retirement, Dr. M. Qasim Jan succeeded him in 1988 who was succeeded by Prof. Dr. Syed Hamidullah in January 2001, Dr. M. Asif Khan in 2002 and again by Dr. Syed Hamidullah in 2003. After, the death of S. Hamidullah, in an air crash, now Dr. M. Asif Khan is the Director of the Center.
The functions of the Centre include:
To engage in goal-oriented high-level teaching and research;
To train research workers;
To establish M.Phil. Ph.D., and other programs in the relevant discipline in accordance with the standard and requirements of the University in which the Centre is established;
To promote co-operation and inter-disciplinary relationship with other teaching and research establishments;
To arrange conferences, seminars, workshops and refresher courses for the development of teaching and research; and
To conduct teaching and research in such particular disciplines as is assigned to it by the Federal Government in consultation with the University in which the Centre is established".
It should be a matter of satisfaction to all concerned that the Centre has been successful in the pursuit of the aims and objectives for which it was established. It has a highly qualified staff with advanced degrees from France, Pakistan, UK and USA. The staff and students have been enthusiastic participants and contributors to national and international conferences, symposia, seminars, and workshops. Several of the faculty members have availed prestigious fellowships, and delivered invited talks in many institutions of Asia, Australia, Europe and America.
The Centre has carried out extensive geological and environmental research in northern Pakistan. The research (both applied and pure) is published regularly in national and international journals (>500 research papers; 5 special volumes; 5 books; 37 volumes of research journal). The enthusiasm and research capabilities of the scientists of the Centre have attracted many established geoscientists from abroad for collaborative work. Several national / international seminars and symposia on geology and tectonics of northern Pakistan were held by the Centre. International linkages have provided ample opportunities for our scientists to enhance their knowledge, as well as that of their associates and students. The Centre has also offered several short courses for in-service geologists.
The Centre remained one of the very well equipped institutions in the country till mid-nineties. There were adequate facilities for mineral identification, chemical analysis, and geochemical mineral exploration techniques. Major facilities included a Graphite Furnace, Atomic Absorption, X-Ray Diffractometer, X-Ray Fluorescence analyzer, Electron Microprobe, Magnetometer, and several computers. These facilities were also extended to organizations concerned with mineral exploration in private and public sectors. Thousands of rock and mineral analyses have been carried out in the Centre labs. for Sarhad Development Authority (SDA), Federally Administrated Tribal Area Development Corporation (FATA DC), Pakistan Mineral Development Corporation (PMDC), Water and Power Development Authority (WAPDA), Geological Survey of Pakistan (GSP), and private mining companies. Besides, the Centre's facilities have also been extended to scientists and students of other departments of University of Peshawar, Agriculture University of Peshawar, and University of Engineering and Technology, Peshawar and those from other universities and educational institutions of the country.
The Centre has adequate facilities for conducting fieldwork; the backbone of geological research. The Centre has produced many graduates (51 M.Phil. & 12 Ph.Ds.) who are holding responsible posts in different organizations. Several faculty members of the Centre are fellows/members of the prestigious academic societies and have been awarded medals, cash prizes and civil and presidential awards (including Sitara-i-Imtiaz, Tamgha-i-Imtiaz, and Izaz-i-Fazeelat) for their outstanding contributions to science and education. It is a matter of pride for us that the Centre was considered as the leading Earth Sciences institution of Pakistan in a survey conducted by the United States Geological Survey some years ago. In the World Bank 1990 report on Higher Education and Scientific Research for Development in Pakistan, the Centre was reported as one of the top few in the country.
The Centre has a good library housing many thousand books and several dozen-research journals. The Higher Education Commission (HEC) has upgraded this library to the status of the National Library of Earth Sciences (NLES) and utilization of funds for the purchase of books and journals and restructuring of the building has begun.
During the last few years the Centre's analytical facilities suffered badly due to the lack of funding and the non-availability of expertise and technical staff. Among the 11 laboratories, 3 major laboratories including Electron Microprobe, X-Ray Fluorescence and Atomic Absorption laboratories have come to a standstill. In bringing back the glorious past of the NCEG, a PC1 of Rs. 36.7m titled "Upgradation/strengthening of the laboratories of National Centre of Excellence in Geology, University of Peshawar" was submitted for approval to HEC. This PC-1 was honored with approval for the fiscal year 2004-05. The equipment has been purchased under this project. The installation of XRF is completed and the upgradation of EPMA, with a PC-based EDS system, is under process.
National Centre of Excellence in Geology
University of Peshawar
Peshawar 25120, NWFP, Pakistan
Tel: 00 92 91 9216767; 9216429
Fax: 00 92 91 9218183
http://nceg.upesh.edu.pk