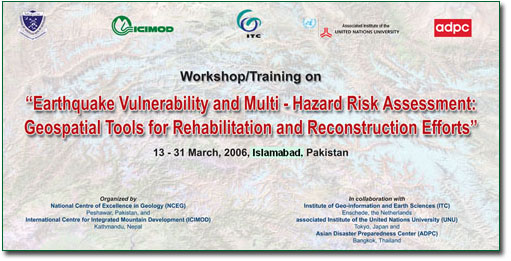 The earthquake of 8 October 2005, measuring 7.6 Richter scale caused unprecedented loss of lives and property in parts of the north-eastern Pakistan. It was reported that exceeding 76,000 death toll, over 2 million people requiring immediate life-saving relief assistance and some 3-4 million people have been affected from the earthquake.

The disaster sparked worldwide concern and a massive relief effort from all sections from private citizens to non-Government and Government organisations rushed to the affected areas to help in the rescue operations. This hitherto unprecedented national solidarity and efforts received tremendous support from the international community with generous contributions in the form of cash, food, emergency shelter and clothing, technical expertise and human resources [ICIMOD Mission - Dec. 2005]. In addition to the immediate relief effort to the earthquake victims ICIMOD supported to the peoples of remote region in Hilkot Village by providing tents.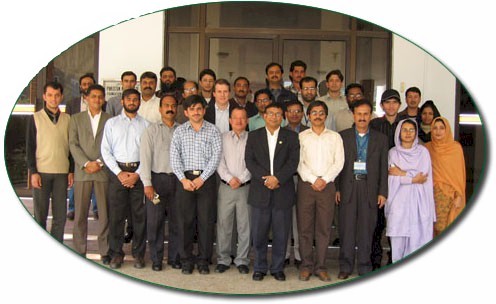 In an effort to rebuild adhering to the national "motto" build-back-better will need greater understanding of the causes and effects of earthquakes and multi-hazards induced due to earthquake. To formulate the effective rehabilitation and reconstructions programme, the National Centre of Excellence in Geology (NCEG - Peshawar) and International Centre for Integrated Mountain Development (ICIMOD - Kathmandu) in collaboration with International Institute of Geo-Information and Earth Sciences (ITC - The Netherlands) and Asian Disaster Preparedness Centre (ADPC - Bangkok) organised the training cum workshop from 13 to 31 March 2006 in Pakistan Academy of Sciences, Islamabad, Pakistan.

The present training programme on "Earthquake Vulnerability and Multi-Hazard Risk Assessment" is aimed at complementing national efforts to strengthen institutions capacity to utilize modern decision support system tools in earthquake disaster management. Altogether 34 participants from Earthquake Reconstruction and Rehabilitation Authority, Micro Seismic Studies Programme, SUPARCO, Pakistan Army, National Engineering Services, Aga Khan Planning and Building Service, National Centre of Excellence in Geology, Ministry of Water and Power, University of Engineering and Technology, National Agricultural Research Centre, Pakistan Atomic Energy Commission, National Institute of Oceanography, Atomic Energy Minerals Centre, Quid-i-Azam University, Northern Area Pakistan Works Department, Federal Urdu University of Science and Technology, University of Punjab, Focus Humanitarian Assistance, Agha Khan Cultural Service, Afghan Globe Consultancy from Pakistan, Afghanistan and Tajikistan.